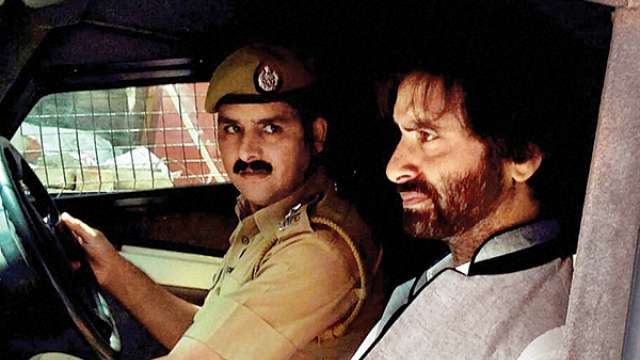 The NIA on Thursday raided the house of separatist leader Shabbir Shah's aide Zameer Thakur in connection with the terror funding case.
In its FIR, the NIA mentioned that Hafiz Saeed and separatist leaders, including members of the Hurriyat Conference, have been acting in connivance with active militants of proscribed terrorist organisations Let, HM, Dukhtaran-e-Millat and other terrorist organisations for raising, receiving and collecting funds domestically and overseas through various illegal channels for funding terrorist activities in Jammu and Kashmir.
On Wednesday, the agency had raided 24 places in the Kashmir Valley and in Delhi focusing mainly on traders, who allegedly have links with the case presently under probe by the NIA.
Earlier in the day, Jammu and Kashmir Liberation Front (JKLF) chief and top separatist Yasin Malik was arrested in Srinagar by the National Investigative Agency (NIA).
Sources said that the NIA sleuths raided the residence of Agha Hassan at Shariat Abad in Budgam soon after sunrise.
NIA officials recovered fixed deposits worth Rs 1 crore, suspect financial records, property related documents and other incriminating papers, which are being analysed with the help of CAs and income tax department officials.
PM Modi leaves for China to attend BRICS Summit
Though China has said that terrorism will not be on the agenda, however, going by past precedence, PM Modi may bring up the issue. On the fourth evening, the BRICS leaders will be joined by leaders of the five guest countries for a welcome.
One of the places where raids were conducted belonged to Abdul Razak, a close aide of separatist Shabir Shah. The disclosure by Khan led to NIA raids at several places in Delhi, Haryana, Jammu and Srinagar. The chairmen of both the factions of Hurriyat, Syed Ali Shah Geelani and Mirwaiz Umar were placed under arrest in their houses and a large contingent of police were deployed outside their houses. "The NIA raided early today and searched the house till about 3pm", sources said.
All of them, NIA said, are suspected of fuelling secessionist and subversive activities in Jammu and Kashmir. "They will be set free by tomorrow", he said.
However NIA did not arrest any of the suspects on Thursday.
Meanwhile NIA also raided the residence of Hurriyat-G General Secretary Ghulam Nabi Sumji at Bijbehara in South Kashmir.
The three senior separatist leaders announced on Wednesday that they would take out a protest march to the NIA headquarters in New Delhi and court arrest on September 9.
As many as 34 companies of PoK were blacklisted to weed out any illegal activity on cross-Line of Control (LoC) trade routes after the recovery of drugs from a truck at Trade Facilitation Centre Salamabad Uri on July 21.