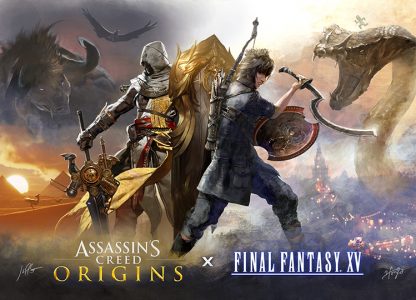 The dev teams from Final Fantasy XV and Assassin's Creed Origins have unveiled a collaboration whereby the two games "pay homage to each other's gaming universes". The informal meeting was originally just a way for both teams to appreciate and express admiration of each other's work, and now it's become something much bigger.
"Master Assassin's Robes" for Noctis via the "Dream Egg", which is obtained from the Moogle Chocobo Carnival that is now ongoing and will end in late September. On top of that the free DLC has new gameplay themed to Assassin's Creed, showing Noctis climbing, running down narrow areas, and using the iconic hidden blade.
As detailed by the Ubi Blog, the collaboration came about after an informal meeting almost three years ago between the Assassin's Creed and Final Fantasy development teams.
In fact, the easter eggs started appearing as far back as November, in a Final Fantasy 15 trailer from that month.
"This collaboration is the result of being huge fans", Ismail said.
Samsung confirms it's working on a smart speaker
However, this is the first time when Samsung has outrightly confirmed the existence of such device and also confirmed its arrival. Samsung has expanded availability of its voice assistant Bixby's voice capabilities to more than 200 countries globally.
The partnership also debuted with a new piece of artwork featuring Origins' Bayek and Final Fantasy XV's Noctis, which was available for attendees at Gamescom 2017. If you have not gotten the Dream Egg yet, you have until the carnival ends on September 30 to obtain it. Eurogamer has a guide for the carnival if you need help getting the Egg. I wonder what kind of thing's will be in Assassin's Creed Origins from FFXV?
Assassin's Creed Origins is now the subject of this month's IGN First reveals - stay tuned to our Origins First hub for all of the latest reveals and gameplay videos. A limited time in-game event called the Assassin's Festival will be overtaking the city of Lestallum starting on August 31st and running until January 31st, 2018.
Assassin's Creed Origins launches on PlayStation 4, Xbox One, and PC on October 27.
For more from the convention, stay tuned to IGN's Gamescom hub for all of the latest news, previews, and more.