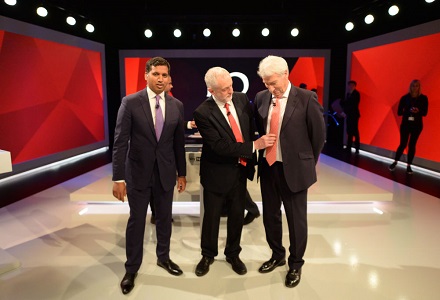 British prime minister Theresa May faced laughter, jeers and heckling from a studio audience on Monday night as she struggled to answer questions about her record during a TV interview with Jeremy Paxman.
The Labour leader, as expected, was given a tough time by the former Newsnight host when facing the journalist in the Sky News and Channel 4 head-to-head leader interviews. Whereas Paxman had attacked Corbyn from the wrong side, he couldn't decide whether to attack her from the left or the right.
The Prime Minister sought to get back on the front foot after the U-turn on social care and the Manchester bombing pushed her campaign off course, claiming Mr Corbyn was "simply not ready to govern and not prepared to lead".
The Conservative leader insisted that she had got her way in previous negotiations and repeatedly stressed her belief that "no deal is better than a bad deal".
Mr Corbyn said he had been pressing for a "stopping" of the conflict, and that the United Nations should have had the chance to prevent it from happening.
The studio audience again applauded loudly when Mr Paxman pointed out that Mrs May and her spokesmen had promised on six occasions since becoming PM that there would not be a general election before 2020. She has said she hopes voters will give her a stronger mandate to implement Britain's exit from the European Union.
"Tonight she showed the strength and quiet determination to confront the challenges the country faces and set out the way through them".
It was put to her by interviewer Jeremy Paxman that U-turns on National Insurance rises, a social care cap, and an early election would lead European Union negotiators to conclude that she was a "blowhard who collapses at the first sign of gunfire".
When asked why he had once said that the death of Osama Bin Laden was a "tragedy", Corbyn said: "I think he should have been arrested and he should have been put on trial".
NC House gives tentative approval to budget
The House tax package would cost only about a third of the Senate's $1 billion-plus in tax breaks through mid-2019. The Senate is set to meet on Wednesday and Thursday, while the House is in session Thursday.
"We know she would demand a referendum in independence as part of any deal with Labour".
Pressed by the presenter on what the social cap would be, she replied: "It's not about not knowing Jeremy....it's about thinking what the right approach is".
Labour leader Jeremy Corbyn was unable to provide the cost of his party's key manifesto plans to roll out free care to all two to four-year-olds on Tuesday morning.
After the dementia tax stumble, Mrs May's strategists - including Australian Sir Lynton Crosby - have determined she should reset her campaign to focus on Brexit.
On Mr Corbyn, he added: "In the biggest fight for the future of our country in a generation, Jeremy Corbyn's Labour has let you down by voting with Theresa May on Brexit - not against her".
Labour's national election co-ordinator Andrew Gwynne said Mrs May needs to answer "crucial" questions over the plans.
A small business owner attacked Mr Corbyn's "ruthless short-sighted policies" such as increasing corporation tax and putting VAT on private school fees.
"Theresa May is certainly the overwhelming favourite to win but crucially we are in the territory now where how well she is going to win is uncertain", John Curtice, professor of politics at the University of Strathclyde, told Reuters.