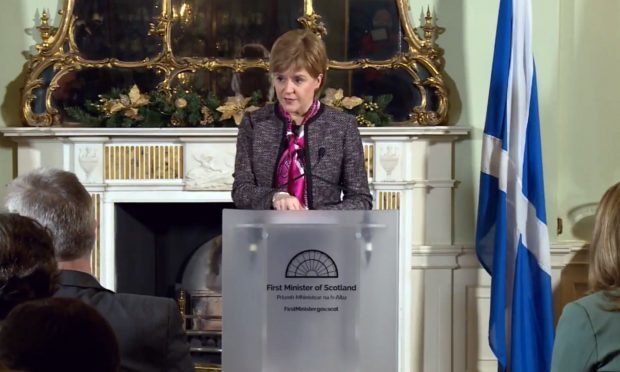 Scottish first minister Nicola Sturgeon said on Monday (13 March) she will start the legal process for a second referendum on independence to be held before the United Kingdom leaves the EU.
Sturgeon said: 'I will continue to stand up for Scotland's interests during the process of Brexit negotiations.
The British PM says it's a deeply regrettable move, and a show of tunnel vision.
Sturgeon has said a second referendum was needed because of Scottish support for European Union ties but the study found that rising euroscepticism in Scotland could undermine her argument.
According to Theresa May's spokeswoman, the Scottish government had better "focus on delivering good government and public services for the people in Scotland". "Politics is not a game".
She said she will seek the authority of the Scottish Parliament to agree with the British government on a so-called Section 30 Order - granting "the ability of Scotland to legislate for an independence referendum".
Ahead of Sturgeon's plans laid out today for another referendum, 47 per cent of Scottish respondents said they expected a "Yes" result in a second vote, with 40 per cent expecting a vote to stay in the UK. While a majority of voters in England and Wales chose to leave the European Union, 62 percent of Scottish voters opted to stay. All efforts by the Scottish Government to find a compromise for Scotland with the UK Government during the Brexit process have been met with a "brick wall of intransigence".
The Fed Must Raise Rates This Week, Or Risk A Market Shock
A steep sell-off in the crude oil market last week helped encourage investors to lighten up positions in the energy sector. UPDATES: Several big U.S. economic reports are also on deck this week, including updates on inflation and retail sales.
Support for independence has been rising in Scotland.
London's conservative government has expressed reservations, but not officially responded to prior suggestions of a new vote by Sturgeon's pro-independence movement.
Scotland must not be "taken down a path that we do not want to go down without a choice", Sturgeon said.
The First Minister has said the earliest time for a vote would be the autumn of 2018 and the latest in the spring of 2019.
Scotland's parliament has a pro-independence majority, and the Scottish government has published proposals outlining how Scotland could remain in the European Union, even after the United Kingdom leaves.
On Monday, Corbyn told the BBC he said "No, we're not in favor of a referendum".